Contact Julie +6012-3825998 (email: Julie_yml@yahoo.com)
http://julieyong.iagent.my & http://www.cbd.com.my/julie_yml for more information.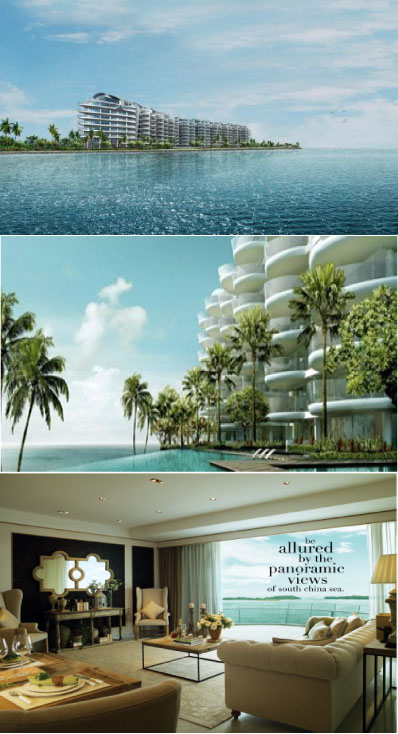 Situated in Sentosa embraced by serene waters, Seascape is an epitome of luxury living, offering 151 exclusive waterfront homes amidst the mystic charm of its natural surrounding. Builit by the sea , the developement dramatic backdrop is just one of its many breathtaking aesthetic virtues. The elegant bold exterior is a reflection of the richnes of the land and the splendour of the sea. Inspired by Sentosa cove nautica theme, the developement features large balconies taking the form of hulls of majetis vessel.
Cocooned in the luxury of your apartment, residents will discover the true sense of well being and rejuvenation. Each apartment at Seascape promises the widest and the most spectacular views of the sea avaiable in Sentosa Island. The penthouses are sprinkled with touches of luxury including a private pool that hugs the living and dining space with generous room for lounging. Beautiful architecture that blends in with its surrounding, the developement has amenities including concierge services, a clubhouse, a gymnasium and extensive water features.
Besides its unrivalled, spectacular waterfront location, Seascape is within minutes from the Universal Studio, The Marine Park and Casino, which form part of resorts World at Sentosa; the biggest shopping mall , VivoCity; Orchard Road shopping Belt and the Central Business District. Escape to Seascape, the perfect blend of private and exclusive resort living just minute from the hustle and bustle of main island Singapore.
Pls login for more properties & information:
Click here for Mont Kiara Properties
Click here for KLCC Properties for Sale/Rent
http://www.klluxuryproperty.com/
http://www.cbd.com.my/julie_yml
http://julieyong.iagent.my
http://www.iproperty.com.my/property/agent.aspx?aid=1052
http://www.cbd.com.my/property/1316/mont-kiara-hot-properties–